01
Why is it worth investing in
your property?
Michael Kosowan:
It's worth investing in our company because we are on the hunt for new gold. We have recently made two key acquisitions in Utah, Speedway Gold and West Mercur, and on these properties we are seeing Carlin-style mineralization, not dissimilar from the style of geology that's been mined for years in Nevada. Nevada is home to the second largest gold resource on the planet – which gives you an indication of the kind of potential we think could exist one state over. The difference is – Utah hasn't been explored to nearly the same degree as Nevada, but as far as we know, mineralization trends don't obey by state lines.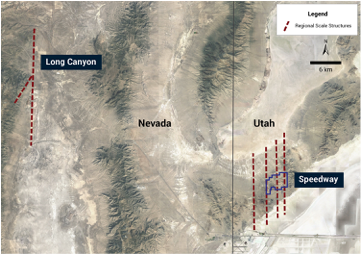 To give you an even better idea of the kind of territory we're in – Newmont's Long Canyon mine is about 50 km to the west of our Speedway project. Long Canyon was acquired by Newmont in 2011 for 2.3 billion dollars. We now have two of the Newmont geologists who completed the mapping and structural contouring for Long Canyon working on Speedway, and they have already been able to recognize similarities between the two.
Our other Utah property, West Mercur, is analogous to the Mercur mine, where Barrick got it's start. Barrick did drill holes on the West Mercur property, including 90 metres of 0.3 g/t in 1986, but the company was focusing it's efforts in Nevada at the time and did not explore further and to the west.
Utah - West Mercur Location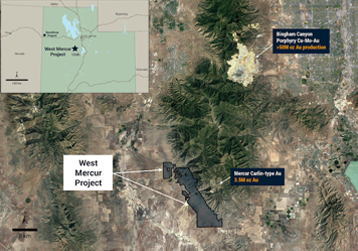 We acquired West Mercur from a private company that is headed by the former VP of Exploration for Barrick during those years, and he is now working with us in the effort of providing a more thorough geological investigation.
To say he knows the rocks well in the area is clearly an understatement. His deep technical and historical knowledge of the region will help us fast track our exploration efforts.
West Mercur - Structures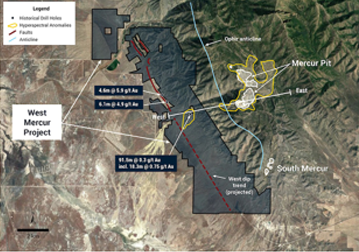 As for Newfoundland, home to our other major asset, it represents the Canadian frontier; a safe and underexplored region that is now generating excitement. There's been a resurgence of exploration in the province. Companies are moving in and developing the area.
Marathon Gold, which is contiguous to one of our tenements is putting Newfoundland back on the map as it uncovers multi-million-ounce style gold deposits.
Our Gander Gold Project, as indicated in the following figure, shows a strong structural break, which is indicated by the two curved yellow lines running down the centre of the sampled area. This structural fault is known as the Dog Bay Crustal Fault Zone.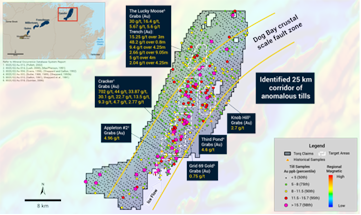 If you look to the right of that, you'll see orange triangles. The one at the top is called Knob Hill. The other one is called Third Pond. These multi-gram types of grabs are what were historically found at surface.
Unlike in the past, we now have the technology, the capital, and the wherewithal to follow closer to the structural interlay that likely exists here.
The red and purple dots are where our till samples really light up, in other words, they indicate where the better 'prospectivity' exists for gold. Gold is typically controlled by some kind of structural feature. In the middle of those two yellow lines is this big ripping fault. This is where we're hunting; where's there's opportunity.
Interestingly, the massive structural feature that rips through this part of Newfoundland is a major suture that extends across the Atlantic Ocean, right up through Northern Ireland towards Dalradian's deposit. This is because Pangea, the supercontinent, split apart more than 300 million years ago creating two geologically similar land masses. Our property is a Canadian Dalradian-style system, which means very high-grade gold – exactly what this market is looking for. As we develop this prospect, and have the success we anticipate, then 'bar the doors,' as this could be a significant new Canadian discovery.